Yes. While not perfect, appropriate lactate measures are the best markers for assessing the conditioning of both energy systems and thus predicting race performance. Many other factors also contribute to optimal performance such as nutrition, hydration, sleep, health, technique, proper equipment, environmental conditions, and mental preparation.

But all things being equal, the conditioning levels of the aerobic and anaerobic systems have the greatest effect on performance.

That is why it is imperative to constantly monitor the conditioning level of the athlete to know if training is working and if the athlete is progressing towards an optimal performance. And lactate testing is the best way to measure the conditioning level of each system.

Here is a chart that shows the correlation between lactate tests and performance.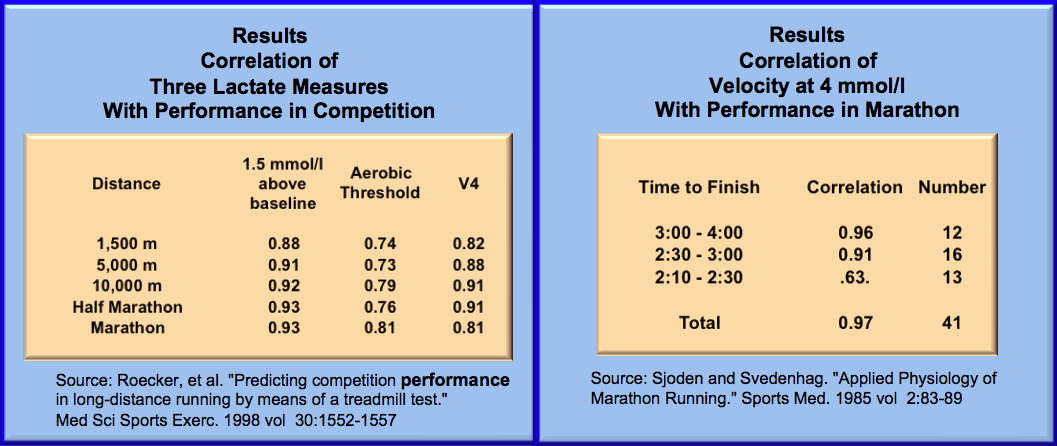 Here is another study that showed that lactate measures correlate highly with a cycling time trial. The subjects in this study were women cyclists. They each were tested using a graded exercise test and for VO2 max. They then performed a one-hour time trial a week later.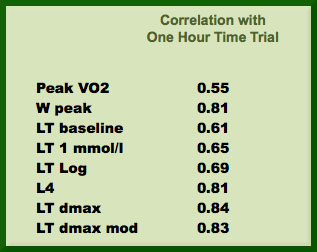 Bishop, D. (1997). "Reliability of a 1-h endurance performance test in trained female cyclists." Medicine and Science in Sports and Exercise 29(4): 554-559.

Measures - Peak VO2 - VO2 at end point of work; W peak - the peak power output achieved at the end of the incremental test; LT baseline - the power output at which plasma lactate concentration begins to increase above the resting level during an incremental exercise test; LT1 mmol/l - the power output preceding a plasma lactate increase by 1 mmol/L or more; LTLOG - the power output at which plasma lactate concentration begins to increase when the log([La-]) is plotted against the log(power output); L4 - the power output at which plasma lactate reaches a concentration of 4 mmol/L; LT dmax - the lactate threshold calculated by the D-max method, identified as the point on the regression curve that yielded the maximal perpendicular distance to the straight line formed by the two end data points; and LT dmax MOD - a modified LT dmax described by the point on the polynomial regression curve that yielded the maximal perpendicular distance to the straight line formed by the LT and the final lactate point