Knoxville Swim Clinic - Apr 28-29 2017
Time and Place 2017
Jan Olbrecht will be back in Knoxvile for a third time on Apr 28 and 29, 2017. The University of Tennessee and Mark Kredich host the third School of Thought Swim Clinic. This clinic features Jan Olbrecht along with Chris Martin, Joe Whitney and Robin Boughey. Sean Hutchison will aslo present.
Application
Participants
Jan Olbrecht
Jan is recognized as one of the world's foremost experts in the application of lactate testing to training design. His book "The Science of Winning" has become one of the most influential books written on training theory for swimming and is used by coaches of several different sports. Since the publication of the book 20 years ago, Olbrecht's theories have been further validated on thousands of high level athletes who he has monitored over the years. Many of these athletes have been extremely successful and have won hundreds of World Championship and Olympic medals. It total Jan has advised athletes who have won over 500 Olympic, World Championship, European Championship and Commonwealth Championship medals. Jan spoke at U. of Tennessee last May.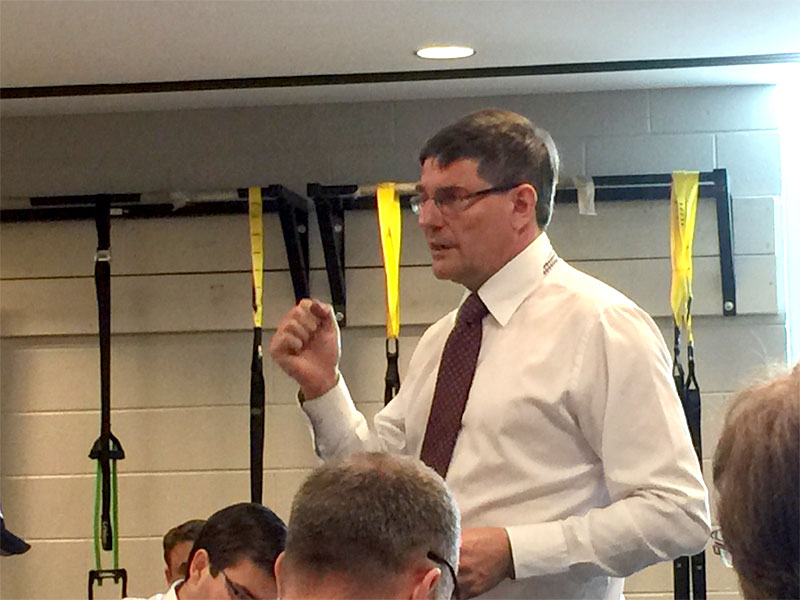 Jan speaks to the coaches during a session
on the training effects of various swim exercises
at previous clinic.
They were planning training exercises based on this chart from the Science of Winning.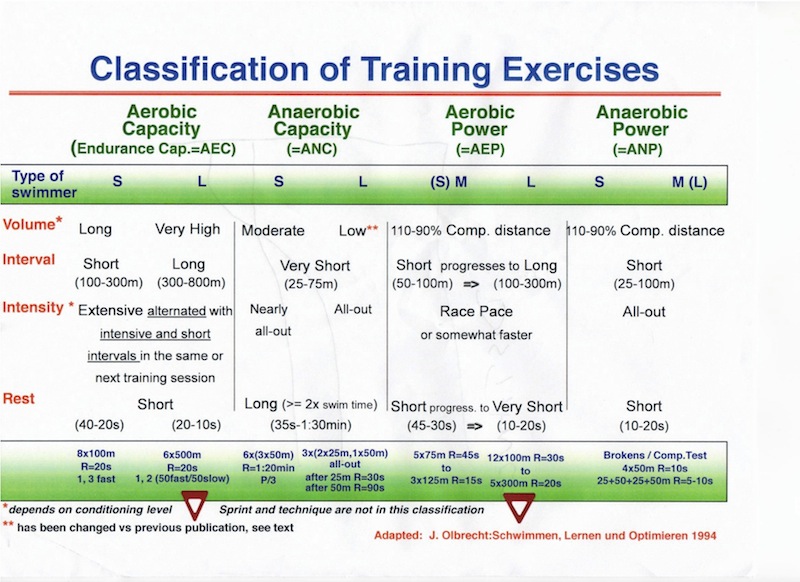 Chris Martin
Chris has been involved in international swimming for over 30 years and is widely considered to be one of the leading thinkers in our sport. He has been an assistant and head coach at the club and college level, and has been a National Team coach for two different countries. Older attendees may remember him from his time at the Peddie School and the University of Florida in the 1990's. In addition, Chris has served as the UK Junior and Development coach and the Scottish National swimming coach, positions which involved him being heavily involved in Coach Education. He has just retuned to the USA after a 5 year stint training a group of high performing youth swimmers in Shanghai, China.
Joe Whitney
Joe Whitney is the Director of Mental Training for the University of Tennessee's Athletic Department. Joe works frequently with professional athletes as well as all UT teams.
Joe has worked closely with the Tennessee Swimming and Diving Teams to develop a mental training program that is progressive through a season and a career, and that can be implemented on a daily basis by a swimming coach. Joe will outline the program and help coaches put together pieces of a program tailored to their program.
Erik Vendt
Known in the swimming world as a 3-time Olympian and winner of a gold and two silver medals. Erik and his company, WHOOP have been working in the field of high performance athletic monitoring. WHOOP is a wrist strap that collects data on sleep, strain, and recovery. The mobile and web platforms allow for deeper insights, competition and group optimization. Erik will talk on some of the findings that WHOOP has pulled from analyzing millions of hours of data.
Robin Boughey
Robin is the physiotherapist for the University of Tennessee and Tennessee Aquatics Elite Team. Robin will be speaking on the rapidly emerging understanding of the connections between breathing and nearly everything else in swimming - posture, biomechanics, physiology, and mental/emotional states. She will also lead a seminar in creating a curriculum for breathing and posture in a team setting.
Sean Hutchison
Sean is the CEO of IKKOS, LLC. Through the IKKOS platform and learning method, Sean and his company have applied advances in neuroscience to learning movement patterns, and are now on the cutting edge of bringing new findings to current practices. Sean will be unveiling some very exciting new technology that is part of the IKKOS platform. Sean is a former member of the US Olympic Coaching staff and Head Coach of King Aquatic Club.
Events
Friday, April 28
8:00 AM -­‐ breakfast and introduction by Matt Kredich
8:30 AM –10:00 AM – Jan Olbrecht - Assessing Power and Capacity: Jan will discuss some of the theoretical foundations of his model, as well as how to use different methods to assess the qualities of power, capacity, and thier relationship to performance.
10:15 AM - 11:30 AM - Robin Boughey - The Breath as the Master Key to Movement– "Robin will speak on the multitude of connections between the act of breathing, and posture, biomechanics, physiology, mental and emotional states in the athletes we coach."
11:30 AM – 12:30 PM – lunch break
12:30 PM – 1:15 PM – Sean Hutchison –"Breakthroughs in Technology and Movement Science"
1:15 PM – 2:45 PM -­‐ Chris Martin – Can We Create More Talent in All Swimmers? What do we consider "talent"? The question has been asked more and more recently, but Chris will take us into a deep exploration of some possible answers based on his lessons learned throughout his career in the USA, Great Britain, Scotland, and China. .
3:00 PM – 4:30 PM –Jan Olbrecht- Part 2 – The use of Science to Optimize Training Efficiency - "Examples of Training Monitoring on Short and Long Term Performances- Case Studies" Jan will discuss the monitoring and steering of the training of world class swimmers and their performances over several time periods.
4:30 PM – 5:30 PM Joe Whitney Creating an Everyday Mental Training Program for Your Team - Rather than looking at mental training as something that is done only by specialists or as a special occasion, Joe will talk about how a coach can create an effective & systematic mental training program into your everyday practice routine. A dynamic speaker and great storyteller - this talk is a can't miss! -
Dinner Break
8:30 PM – Coaches Social
Saturday, April 29
If we have more than 30 people sign up, we will divide the clinic into two tracks (groups of 25-30), allowing each group to participate in a three hour seminar with Jan Olbrecht and shorter seminars with Robin Boughey and Chris Martin.
8:00 AM -­‐ breakfast
8:30 AM – 11:30 AM – Track 1 Jan Olbrecht - Training Design Seminar - Exploring Periodization Models
8:30 AM – 11:30 AM – Track 2 Chris Martin - Ideas for "creating" talent in a your team or program. Robin Boughey Designing a breathing curriculum - implications for posture, strength, and performance.
11:30 AM – 1:00 PM – Lunch and presentation by Erik Vendt
12:30 PM –3:30 PM – Track 2 Jan Olbrecht - Training Design Seminar - Exploring Periodization Models
12:30 PM –3:30 PM – Track 1 Chris Martin - Ideas for "creating" talent in a your team or program. Robin Boughey Designing a breathing curriculum - implications for posture, strength, and performance.
4:00 PM – Clinic ends.
Application